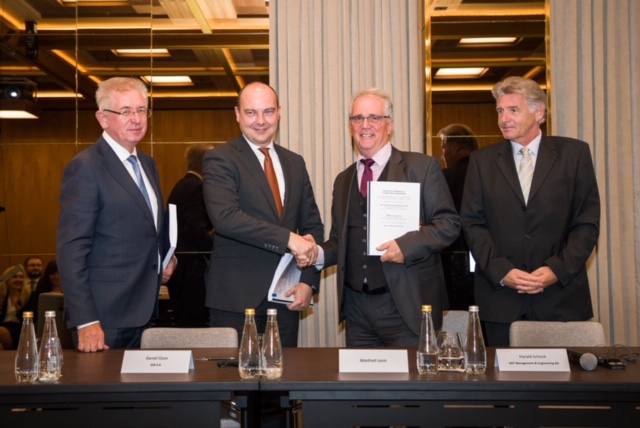 Technology of the future soon in Poland. Carbon nanostructures will be produced through international cooperation. Today, JSW Innowacje SA and AGT Management & Engineering AG in Switzerland signed a cooperation agreement for the development and implementation of production technology of carbon nanostructures.
This innovative project assumes the production of carbon nanostructures, including carbon nanotubes using a technology involving low temperature conversion and chemical vapour deposition in the presence of properly prepared catalysts. The nanotubes will be produced with the use of coal mine methane, natural gas, refuse-derived fuel and plastic.
The cooperation agreement calls for the implementation of the CNT (Carbon Nanotubes) Project in three stages. First, research and analyses will be conducted with respect to the applications of the nanocarbon technology supplied by AGT aimed at checking its effectiveness on the industrial scale. This part will be carried out at the St. Andrews University in Scotland with the participation of an external partner, Eisenmann Anlagenbau GmbH & Co. KG, which will provide technical infrastructure. Then a special-purpose vehicle will be established jointly by JSWI and AGT to continue to develop the project. It will build the first carbon nanostructure production line on the post-industrial land of the former Dębieńsko Coking Plant in the Śląskie Voivodeship. Ultimately, additional production lines of carbon nanostructures will be build in the special-purpose vehicle. Thus, through international cooperation, the product portfolio of the JSW Group will expand significantly by valuable materials for the production of composites and for specialist applications.
What are carbon nanostructures?
It is one of the forms of carbon, hollow cylinders where walls are built out of a rolled-up graphene (single-atom graphene layer). Single-walled carbon tubes, that is graphene rolled-up in cylinders, may be 1 to 1.5 nm in diameter. Double-walled and multi-walled nanotubes are also produced. They are extremely light but very durable, even one hundred times more than steel and they are excellent conductors of heat and electricity. Carbon nanostructures improve the characteristics of materials, improving their durability and decreasing their wear. Extended life cycle of the material makes it more environmentally-friendly by reducing the amount of waste. They are also added to structural materials, reducing their weight, which is extremely important among others in the automotive industry, contributing to the reduction in exhaust emissions. Nanotubes are used most frequently in electronics (28%), power industries (22%), environmental protection, medicine and composite production (17%).
The contracting parties assume that production will reach 100 tons in the first step, which will make up some of the world's nanostructure production. Currently, the value of this market is $ 1.25 billion worldwide and is expected to grow by 17.9 percent annually by 2025. The largest producers are Artema (France) with 400 tons, Nanocyl (Belgium) also 400 tons and the German Bayer Group with 250 tons.